Tom Gilbert Memorial Scholarship
Admin
October 22, 2021
/
5 mins read
The Tom Gilbert Memorial Scholarship was created by Joe Patton and Tim Pitts, lifelong friends and Manchester High School classmates of Tom, to honor his spirit, support of public education, and service to others. The scholarship will help to provide education for who have been invested in MHS extracurricular activities and who are eager to pursue a bachelor or associate degree or industry recognized certification upon high school graduation.
Eligibility Requirements
Graduates of Manchester High School in the current year
Enrolling in an associate's or bachelor's degree or postsecondary education program resulting in an industry recognized certification
High School GPA of at least 2.0 on a 4.0 scale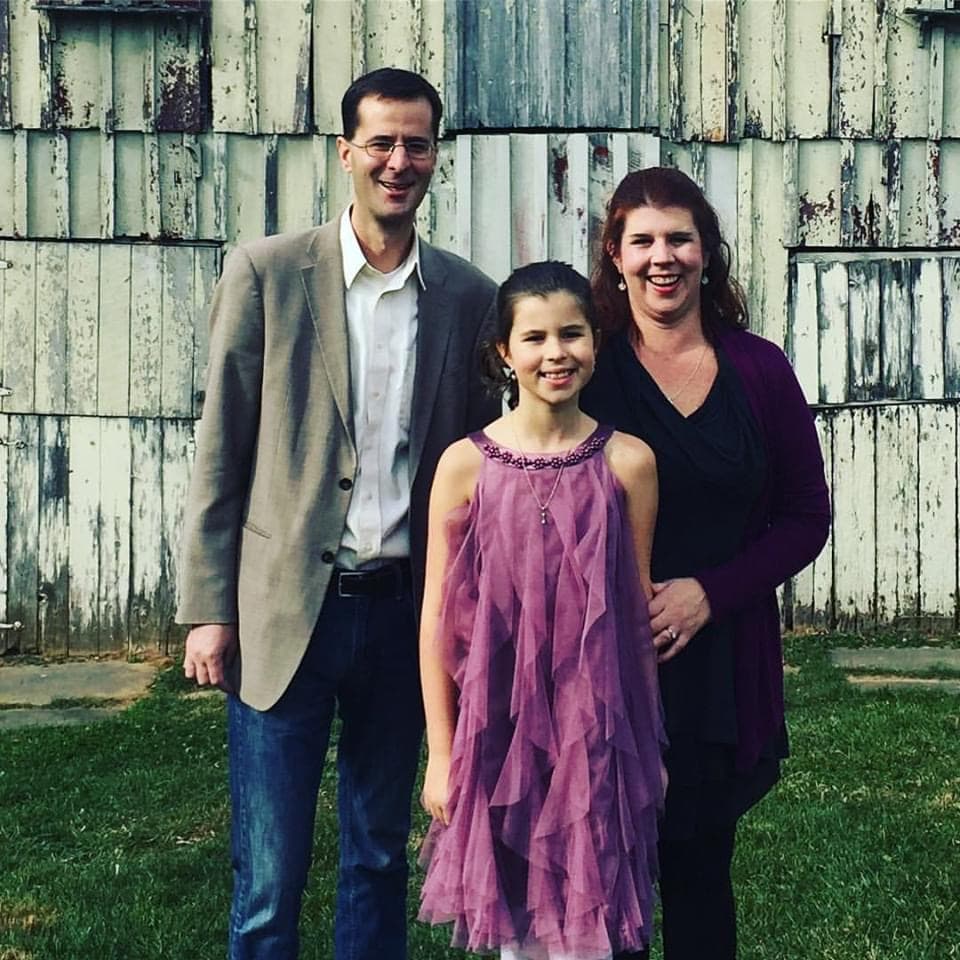 Tom and his wife Emily and their daughter
Press Release - September 17, 2021
Tom Gilbert Memorial Scholarship Encourages Extracurricular Involvement
The Community Foundation is pleased to announce the creation of the Tom Gilbert Memorial Scholarship to reward Manchester High School seniors who were actively involved in extracurricular activities during high school. School spirit and participating in high school activities, whether it be through sports, the arts, or attending school events, were important to and valued by Tom. Therefore, after Tom's passing, his lifelong friends and high school teammates, Tim Pitts and Joe Patton, decided to create this scholarship in his memory.
Some of Tim's fondest memories of Tom revolve around basketball and the success they had together as teammates. "We had great times and great teammates from 7th-12th grade and compiled a team record of 102-15 during our career. The best memory I have with Tom in high school was winning the regional championship and playing in the semi-state round, eventually losing a close game to eventual state champions South Bend Clay. We were the first and only team to win a regional championship in Manchester history."
The sport that forged the bond between Tim and Tom also helped strengthen it as the years passed. "I would say the last ten years of Tommy's life we became very close," Tim said. "We began an annual trip to the Crossroads Classic basketball tournament when Tom would come home around the holidays, and those are times that I sure miss. He was very intelligent, funny and witty, treated everyone equally, and would do anything for you. Tommy was just one heck of a friend, husband, and dad!"
"Tom would feel honored to know there is a scholarship in his memory, but he would also feel he was unworthy of such a tribute," said Tom's wife, Emily. "During high school, Tom's extracurricular involvement all revolved around sports, but he knew the importance of music and other activities and interests. He enjoyed supporting high school groups and would help them secure whatever was needed to make them successful. He would be glad to know that the scholarship supports those students who were involved, well-rounded, and who enjoyed all aspects of high school life, values he instilled in his daughter, Carley."
"Tom was a hard worker and valued education, as well as the overall educational experience," continued Emily. "He understood that 4-year college wasn't for everyone and believed that one should embark on whatever career path would feel most successful. He talked frequently about the lessons he learned through sports and the importance of being part of a team. I think this is why he loved that Carley was so enthusiastic about the marching band - learning to work as a team and how it took everyone trying their best for the show to be a success was an important lesson."
Donations to the Tom Gilbert Memorial Scholarship can be made online at www.cfwabash.org or with a check made out to the Community Foundation of Wabash County with "Tom Gilbert" in the memo line.
The goal of the Community Foundation's scholarship program is to increase educational attainment in Wabash County in order to develop talent and build strong community leaders. Each of the Community Foundation's scholarships were created by individuals or families who wanted to create educational opportunities for Wabash County students. Many of these scholarships were created by families in memory or in honor of a loved one and are awarded to students who share similar values and ambitions. If you or a family member are interested in establishing a scholarship to help relieve the financial burden and provide educational opportunities to our county's bright students, please contact Julie Garber by email at julie@cfwabash.org or by phone at 260-982-4824.