The Community Foundation of Wabash County named Malachi Higgins the recipient of the Ford Family Community Scholarship, a full tuition scholarship to any qualified Indiana institution of higher education. Malachi is a student at Northfield High School and Heartland Career Center where he is enrolled in the Precision Agriculture program. He plans to pursue a bachelor's degree in engineering in college.
The Ford Family Community Scholarship was established to honor the legacy of the late Wilbur and Florence Ford and their descendants, many of whom were life-long Wabash county residents who believed in investing locally, supporting community organizations, volunteering, and creating opportunities for future generations. Candidates for the Ford Family submit an application and an essay on leadership and sit for an interview to talk about their experiences in leadership among their peers and their vision for their communities.
Higgins talks about his interest in engineering with passion. "The reason I want to be an engineer is because of all the problem solving that I get to do. That is what excites me the most being able to work with a group of highly qualified people and try and figure out how to fix a problem."
Julie Garber, Vice President for Programs at the Community Foundation notes, "Problem solving is also a skill of leaders and what makes Higgins a good candidate for the scholarship. He has been a leader in school sports, his church youth group, 4-H, and numerous other involvements. In each opportunity, he uses his skills of problem solving to move groups forward. Malachi is the very person every community wants in its leadership."
Applicants were evaluated on their potential to become the leaders of the future. In particular, the Ford Family Community Scholarship awards this four year, full-tuition scholarship to students who have been involved in their communities through volunteer service, community events, youth groups, clubs, teams, student government or other youth leadership opportunities.
Higgins said, "A meaningful academic experience for me that ignited my passion for engineering was my STEM class in 4th, 5th, and 6th grade. It was a time that a select few people got to leave normal class which was a huge plus for me back then. What I didn't realize at the moment was that we spent the whole time doing problem solving, which is thought was simple fun, more than anything else. That love for problem solving and creating have stuck with me all throughout high school."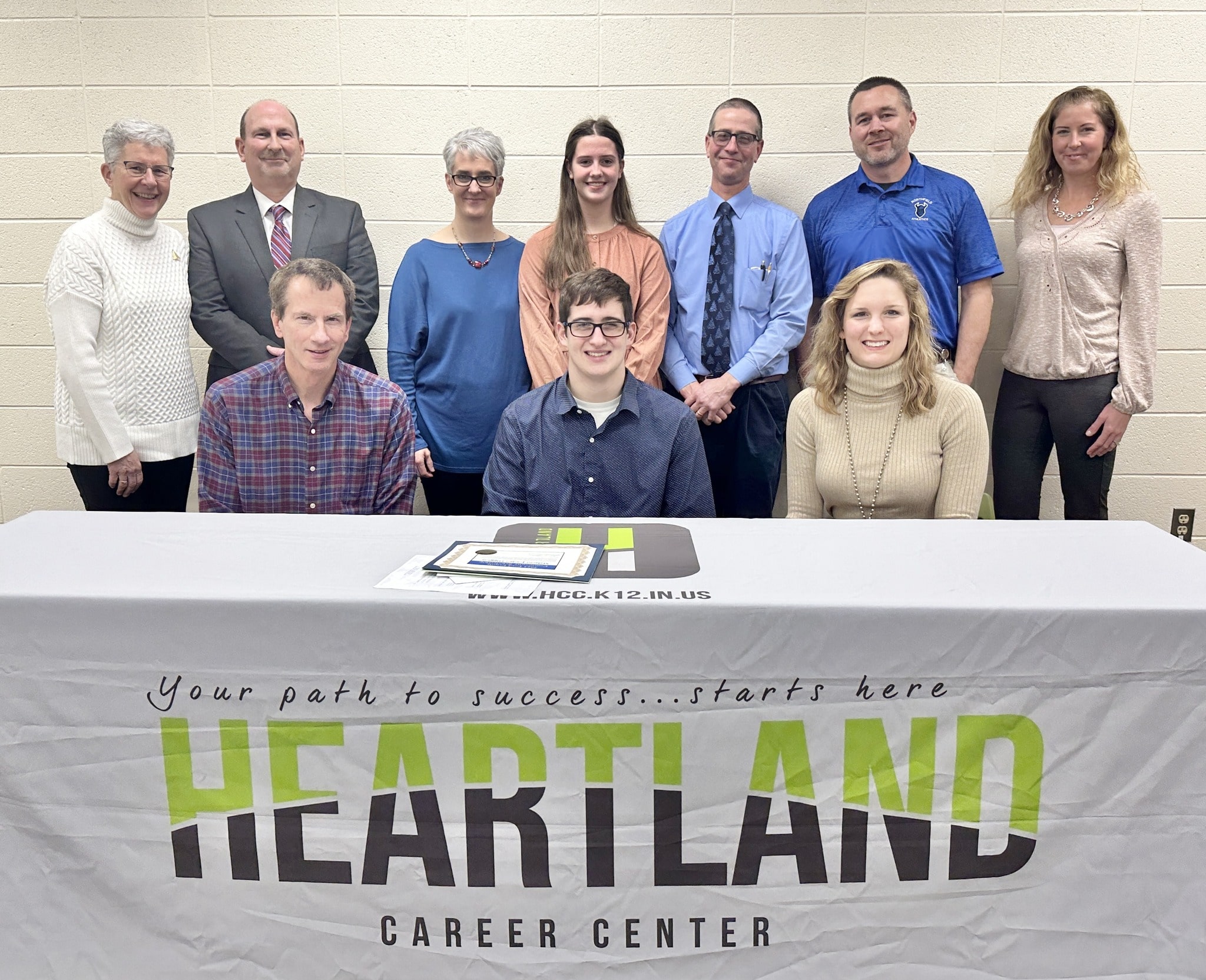 Malachi Higgins receives his scholarship award surrounded by (front) Mark Ford and Melissa Ford-Kalbfell and (back, from left) Julie Garber, Vice President of Programs Community Foundation, Mike Keaffaber, Superintendent MSD of Wabash County, mother Ann, sister, Millie, father Jon, Jay Snyder, Principal Northfield High School, and Lori Dubois, Precision Agriculture Specialist Instructor at Heartland Career Center.